Representation Theory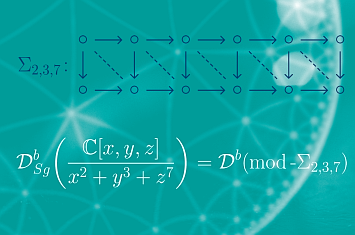 Click here for some information on the picture.
Representation theory is the study of concrete realizations of the axiomatic systems of abstract algebra. It originated in the study of permutation groups, and algebras of matrices [Curtis/Reiner 1962]. The representation theory of finite dimensional algebras took off in the 1970s, when quivers became popular and methods from homological algebra led to new concepts.
One of the fundamental problems is to classify the representations of a given finite dimensional algebra. Auslander-Reiten quivers, representation varieties, derived categories and Hochschild cohomology are only some of the many concepts that are used in this context. There are beautiful connections to Lie theory, quantum groups, singularities, cluster algebras etc.
---
News