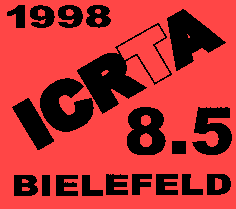 International Conference:
Representation Theory of Algebras
Bielefeld/Germany, August 31 - September 5, 1998.
The conference will be held at University of Bielefeld (starting on August 31 at 9:00 am and ending on September 5 at 2:00 pm).
---
Scientific Program: Day by Day

Abstracts
Please note that there is no intention to publish general proceedings of this conference. The participants are strongly encouraged to submit their papers to scientific journals in order to obtain a wide distribution.
Procedure of submitting an abstract
(The deadline for submitting abstracts has been expired, but abstracts on important new developments still may be sent. All arriving before the start of the conference will be distributed in the internet (under the heading Late Abstracts) and printed versions will be handed out to the participants. Note that there seems to be no possibility to schedule further lectures!)
---
The Weeks Before and After:
The International Congress of Mathematicians ICM 98 will be held at Berlin August 18 - 27, 1998. It is easy to go from Berlin to Bielefeld: one may use a train, it runs every hour and takes 210 minutes.

ICRTA will be followed by a Euroconference devoted to Infinite Length Modules, September 7 - 11, 1998. Special funds of the European Union (TMR) are available for allowing young researchers from member states of the European Union to participate at the Euroconference, see: Financial support for young researchers.

Several mathematicians intend to visit Bielefeld for a longer period. For present plans, see the list of guests. Several special (and maybe informal) seminars will be scheduled during these weeks.
---
8.7.1996 Last modified: 21.7.1998