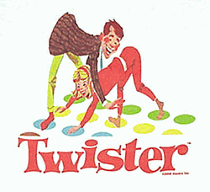 ---
Who invented Twister?

The United States Patent that was originally issued for the game Twister shows two names inventors of the game. They are

| | |
| --- | --- |
| Charles F. (Chuck) Foley | Neil Rabens |

The U. S. Patent 3,454,279 was filed on 1966-04-14 and excepted 1969-07-08.

What was the beginning of Twister? Read the Twister-History.

Twister in Germany

Die Seite des Herstellers Hasbro www.hasbro.de/spiele/twister/. Die animierten Bilder geben einen guten Eindruck vom Verlauf des Spiels. Das Hasbro Journal No 10 (1999) zeigt wie Twister promotet wird. TWISTER sorgt auf Parties und im Handel für Stimmung . Da ich weder Bravo, Popkorn noch das POW-Magazin lese, hat diese PR Welle mich nicht erreicht. Twister ist in Deutschland ein Spiel für Kinder.

Twister Party

Make a Twister Party. Found in The Party Goer's Bible: Twister Party and PartySchool.Com: Twister Party

Twister Mat

A 50x20 feet large Giant Twister www.waxnmore.com/interactive.html or www.totalrebound.com/gamepages/gianttwister.html.


Rent a huge Twister Mat by www.saturnamusements.com.


Inflatable Whopper Twister 6x6 meters (12x12 points) large www.funworks.co.nz/twister.htm.

A Water Twister Mat with a Game Spinner. Water Twister

Twister Spinner

There are several virtual Twister Spinners.

Twister Shirts

Virtual Twister

Session 3, was titled Networked Reality Systems and featured three presentations, two virtual reality applications (Virtual Polis, by Loeffler of Carnegie Mellon University and Interspace, by Suguwara, et. al. of the NTT Human Interface Lab) and a networked virtual space implementation of the "Twister" parlor game, by Fujihata and Suzuki of Keio University. The networked reality implementation of the Twister game consists of having human operators manipulate, via joysticks, tripedal clones of themselves in a virtual space equipped with a virtual "Twister" mat. The system was demonstrated on 18 February, 1994 by linking the site of IMAGINA '94 (Monte Carlo, France) with Keio University in Yokohama. Both the Interspace and Twister Game presentations had associated demonstration systems available during session breaks.

Adam spielt 009

Ein kleiner Tip: für den Spielleiter lohnt es sich, ab und zu ein Auge auf die "Gruppe von Laokoon" zu werfen, er sieht dann, welche Anzeige des Drehpfeiles die grösste Heiterkeit bei den Zuschauern auslösen würde. Eine entsprechende "Manipulation" (tz, tz, tz) wird hiermit generös verziehen!

Spielbesprechung aus dem Katalog.

Kritiker: Andreas Keirat

Für Erwachsene ist das Spiel nichts, da diese meist nicht so gelenkig sind und sich über lange Zeit verrenken können. Kinder sind jedoch begeistert davon und können vom Spiel gar nicht genug bekommen. Allerdings braucht man eine relativ grosse Spielfläche im Wohnzimmer oder Kinderzimmer, um die Matte auszurollen.

Fazit: Ein ideales Kinderspiel. Erwachsene spielen es nicht gerne, Kinder sind nur begeistert.

Spielbesprechung in Langform.

TWISTER by MB GAMES

For fun-loving people of all ages Twister is the only game where you are the game pieces as you and your opponents get tied up in knots. Spin the spinner to move your body around the mat. The last player to fall wins. For 2-4 players.

- http://www.cyberpoint.co.uk/pied/rnib/rnib-58.htm The Twister mat has 24 coloured dots in four rows. Players move hands or feet to various positions on the mat as determined by the Twister spinner. The object of the game is to outmanoeuvre opponents and be the last player standing on the mat.

GRASSHOPPER HOP

Upping the Ante: With kids aged six and older, play a "twister" type of game, asking them to put their left foot on the letter C and their right hand on H, for example. Add even more spice to the game by joining in yourself and letting the children give you hopping instructions. The kids will think it's hilarious!

Finger Twister

Do you want to play Finger Twister? A local copy of the first page of Finger Twister?

Twister Stories
Twister around the world
More and more Twister.
---
Who will try a game. Please call me. Torsten Sillke

Home | FSP Mathematisierung | Fakultät für Mathematik | Universität Bielefeld

Last Update: 2002-01-18