Prof. Dr. William (=Bill) Crawley-Boevey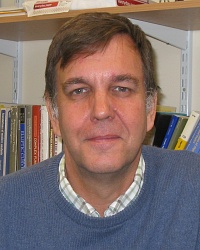 Alexander von Humboldt Professor
Research group: BIREP
E-Mail: wcrawley
Telephone: +49 (0)521 106 5033
Office: V5-221.
---
Teaching
---
Humboldt Award
The research group is supported by the Alexander von Humboldt Stiftung/Foundation in the framework of the Alexander von Humboldt Professorship endowed by the Federal Ministry of Education and Research. The grant ran from October 2016. Most activities ended in October 2021, but some activities continue until October 2022.
Research Plan: Representations of Algebras and Classification Problems in Linear Algebra
Summary. Linear algebra is one of the most successful tools in mathematics, but within linear algebra there are difficult problems, especially the classification of configurations of matrices, perhaps satisfying algebraic equations, up to the natural operation of simultaneous conjugacy. In abstract algebra this is formulated in terms of 'associative algebras' and their 'representations', and using this language one can bring to bear modern mathematical tools, such as category theory and homological algebra. The aim of this project is to make progress in three areas of the representation theory of algebras: the first area is to improve our understanding of algebras where it is possible, or should be possible, to classify representations diagrammatically in terms of certain 'strings' and 'bands'; the next area concerns the algebraic-geometric structures arising from representations of algebras; and the third relates to the 'Deligne Simpson Problem', a problem in linear algebra which arises when one attempts to classify linear ordinary differential equations in terms of their singular points.
---
Miscellaneous
Distinctions
Editorial work
Research Students
---
Research Interests
My research has mainly been on the representation theory of finite-dimensional associative algebras (see fdlist), and related questions in linear algebra, ring and module theory, and algebraic geometry.

In recent years I have concentrated on representations of quivers and preprojective algebras. A quiver is essentially the same thing as a directed graph, and a representation associates a vector space to each vertex and a linear map to each arrow. The subject was started by P. Gabriel in 1972, when he discovered that the quivers with only finitely many indecomposable representations are exactly the ADE Dynkin diagrams which occur in Lie theory (for example a quiver of type E6 is illustrated on the left). Quivers and their representations now appear in all sorts of areas of mathematics and physics, including representation theory, cluster algebras, geometry (algebraic, differential, symplectic), noncommutative geometry, quantum groups, string theory, and more.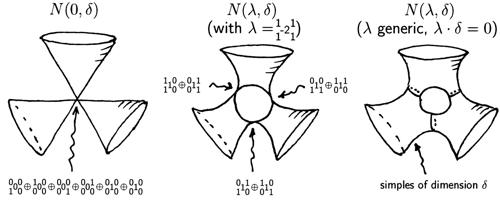 The preprojective algebra associated to a quiver was invented by I. M. Gelfand and V. A. Ponomarev. Its modules are intimately related to representations of the quiver, but it is often the modules for the preprojective algebra which are of relevance in other parts of mathematics. There is beautiful geometry linked to the preprojective algebra, including Kleinian singularities and H. Nakajima's quiver varieties. (The illustration on the right shows the real-valued points of varieties associated to a quiver of extended Dynkin, that is, affine, type D4.)

There are also links between the preprojective algebra and the classification of differential equations on the Riemann sphere. They are used in work on the Deligne-Simpson problem, which concerns the existence of matrices in prescribed conjugacy classes whose product is the identity matrix, or whose sum is the zero matrix. (The picture on the left shows loops on the punctured Riemann sphere which generate its fundamental group. Consideration of the monodromy around such loops links the classification of differential equations on the Riemann sphere to the Deligne-Simpson problem.)
In earlier times I was interested in tame algebras, matrix problems, and infinite-dimensional modules. Finite dimensional associative algebras naturally divide into three classes: algebras finite representation type with only finitely many indecomposable modules, wild algebras for which the indecomposable modules are unclassifiable (in a suitable sense), and those on the boundary between these classes, the tame algebras. There are many interesting classes of tame algebras, and it is often a major problem to actually give the classification of the indecomposable modules.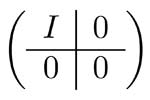 One way to study tame algebras is to convert the problem of classifying their modules into a matrix problem: putting a partitioned matrix into canonical form using not all elementary operations, but a subset defined by the partition. (The illustration on the right shows what an arbitrary matrix can be reduced to if you allow all row and column operations; it also shows an example of a partition of a matrix.) Using advanced methods based on this idea, Yu. A. Drozd proved his wonderful Tame and Wild Theorem showing that there is a wide gulf between the behaviour of tame and wild algebras. The same methods can be used to show that tame algebras are characterized by the behaviour of their infinite-dimensional modules. In fact, the behaviour of infinite-dimensional modules for tame algebras is extremely interesting, and not at all understood.
---
Publications
Google Scholar page | Publons page
---
Preprints
---
Knitting
An applet written by Jan Geuenich (at my request) to compute Auslander-Reiten quivers by the knitting algorithm. It either computes the preprojective component, or the entire AR quiver if the algebra is of finite representation type and representation-directed.
Call it without an argument to do a random example: https://www.math.uni-bielefeld.de/~wcrawley/knitting/ The simple modules are labelled by digits or letters. Place the cursor over a vertex to display the dimension vector of the corresponding indecomposable module, as a list of simples with appropriate multiplicities.
In general one needs to specify the labels of the simple modules and the dimension vectors of the indecomposable direct summands of the radicals of their projective covers. For example the path algebra of quiver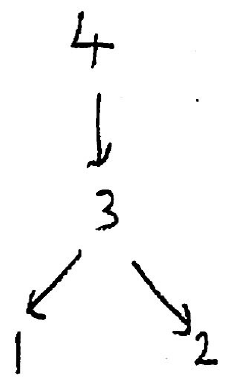 has simples 1,2,3,4 and the radicals of the projective covers P[1] and P[2] are zero, the radical of P[3] is a direct sum of simples 1 and 2 and the radical of P[4] is indecomposable of dimension vector 123. Compute the AR quiver with https://www.math.uni-bielefeld.de/~wcrawley/knitting/?projectives=1:,2:,3:1+2,4:123
The commutative square algebra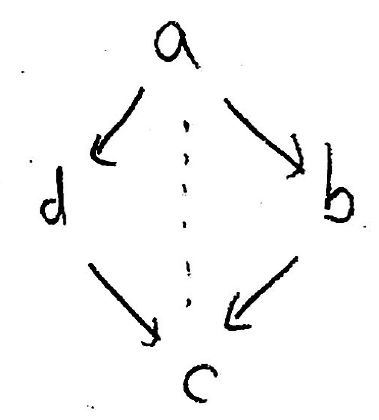 has simples a,b,c,d and rad P[a] is indecomposable of dimension vector bcd, rad P[b] has dimension vector c, rad P[c] is zero and rad P[d] has dimension vector c. Compute the AR quiver with https://www.math.uni-bielefeld.de/~wcrawley/knitting/?projectives=a:bcd,b:c,c:,d:c
The path algebra of the quiver

has preprojective component

displayed in C. M. Ringel, Finite dimensional hereditary algebras of wild representation type, Mathematische Zeitschrift 161 (1978), 235-255. Now rad P[1] is zero, rad P[2] has two indecomposable summands of dimension vector 1 and rad P[3] is indecomposable of dimension vector 122, so the preprojective component is computed with: https://www.math.uni-bielefeld.de/~wcrawley/knitting/?projectives=1:,2:1+1,3:112 (Find the misprint.)
You can drag the projective vertices to new positions, or specify them with the option "positions=". Another example, taken from section 6.6 of P. Gabriel, Auslander-Reiten sequences and representation-finite algebras, in "Representation theory, I" (Proc. Workshop, Carleton Univ., Ottawa, Ont., 1979), pp. 1–71, Lecture Notes in Math., 831, Springer, Berlin, 1980. The algebra with quiver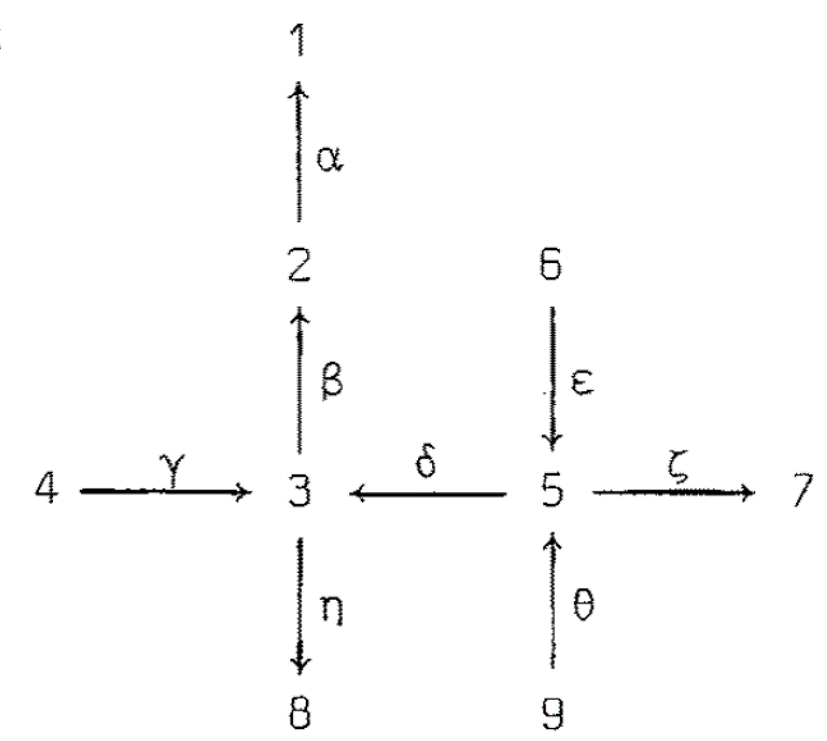 and relations βγ = βδε = ζε = ηδθ = 0 has AR quiver https://www.math.uni-bielefeld.de/~wcrawley/knitting/?projectives=1:,2:1,3:12+8,4:38,5:1238+7,6:358,7:,8:,9:12357&positions=1:3,2:4,3:5,4:2,5:6,6:0,7:7,8:5.2,9:1 or https://www.math.uni-bielefeld.de/~wcrawley/knitting/?projectives=1:,2:1,3:12+8,4:38,5:1238+7,6:358,7:,8:,9:12357&positions=1:(-50|0),2:(0|0),3:(50|0),4:(-100|1),5:(100|0),6:(-200|0),7:(150|0),8:(60|0),9:(-150|0)
You can draw the AR quiver vertically with the option "orientation=vertical". https://www.math.uni-bielefeld.de/~wcrawley/knitting/?projectives=1:,2:1,3:12+8,4:38,5:1238+7,6:358,7:,8:,9:12357&positions=1:(-50|0),2:(0|0),3:(50|0),4:(-100|1),5:(100|0),6:(-200|0),7:(150|0),8:(60|0),9:(-150|0)&orientation=vertical
Note that for the knitting procedure to be valid, you should check beforehand that all indecomposable summands of the radicals are the unique indecomposable modules of their dimension vectors. This is in any case true for modules in preprojective components. It is assumed that the base field is algebraically closed, or more generally that every simple module has endomorphism algebra equal to the base field (equivalently that the algebra is given by a quiver with admissible relations).
---
Archived materials
---
Recent and forthcoming meetings